About Us
Let the Team at Hey Red! Inc. pamper you with the highest quality services and products in a comfortable relaxing environment, using guaranteed superlative techniques. Hey Red, Inc. is happy to offer many personalized services for men and women including waxing and hair services (color, cut, texturizing and more).
Location & Hours
641 Main Street, Laurel, Maryland.
301.490.3400
heyredinc@heyredinc.com
Tuesday - Thursday: 8am - 8pm
Friday: 8am - 5pm
Saturday, Sunday, Monday: Closed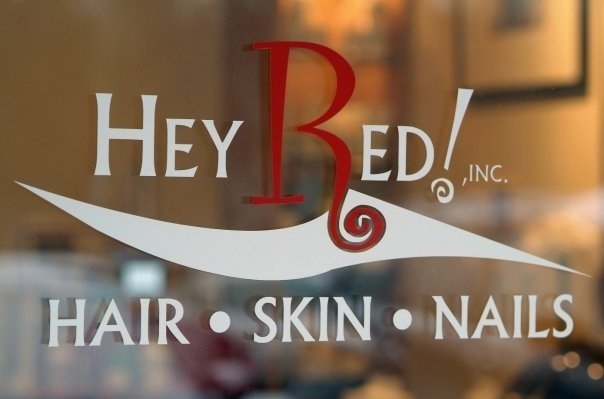 Our
History, Awards, Mission, Charities
Founded in 2004, Hey Red!, Inc. is a full service salon located on Historic Main Street in Laurel, Maryland. Voted in the Top Ten of The Washington Post's "Best Bet", Winner of Best of Laurel, showcased in Salon Today and DaySpa Magazine. Let the Team at Hey Red!, Inc. pamper you or a loved one with the highest quality in personalized services and products in a comfortable relaxing environment. All of our Stylists and Technicians are part of a continuing education program to bring you the cutting edge techniques and most up to date styles. We also pride ourselves on our listening skills. Always feel free to schedule a complementary consultation to discuss any challenges you may be having with your hair. Feel free to bring in pictures or browse through our books and magazines to find the perfect match for you! Not only are we active with our clients but with our community as well. Since our doors have opened we have been actively involved in raising funds for The American Red Cross, The NCA Disaster Relief Fund, The Laurel Mississippi Fund, and The Laurel Pregnancy Center. As well as being involved in the expansion of the "Cut it Out" Salon's Against Domestic Abuse into the Laurel area.
Before You Come
Good communication with your stylist is essential for getting what you want. A few minutes of pre-salon prep can help you explain your goals, and ensure that your stylist understands your desired result.
Bring your inspiration
Photographs and examples of hair you love will help you and your stylist explore your options - and ensure that you both mean the same thing when you say, "honey blonde", or "just a trim."
Know your history
Be prepared to tell your stylist about any prior cut or color services, whether it was highlights last year or a color gloss last month.
Trust your stylist
Listen to your stylist's expert opinion. During your consultation, he or she will consider your desired result, then evaluate your hair's condition and look at your skin tone and coloring in order to create your custom look.
Ask questions
If you hear a term you don't understand, don't hesitate to ask your stylist for an explanation. Remember to inquire about maintenance - how often you'll need to return to the salon for a trim or how to best maintain your color at home between visits.
Try to walk into the salon with your everyday "look", so your stylist can get a feel for what you're comfortable with.
If you have the time, do a little research into terminology. Knowing the difference between terms like demi-permanent and permanent color can help you and your stylist communicate more efficiently.
Your stylist is there to work with you to achieve beautiful hair. The more you can explain about what you want, the better the collaboration will be.
If you are going in for "corrective color" - to correct color results you are unhappy with from a prior color experience - be prepared for a possible longer visit, as your stylist may need to remove old color and then recolor your hair.
Our Policies
Cancellation

If you have any communicable illnesses such as cold, flu, fever, or COVID, we ask that you please cancel your appointment

48 hours is required and appreciated for all cancellations. We appreciate our guests as a whole and do understand that life happens/situations our of control. If you are unable to attend an appointment please provide as much notice as possible to allow our service providers ample time to schedule a waiting client. Should you fail to show up for your appointment, we will gladly reschedule that appointment for one time. Following the second "no show"/"last minute cancellation", a credit card will be required to reserve the appointment time. 100% of the scheduled service will be charged for any subsequent "no show"/"last minute cancellation".

We hope that you understand that all of our stylists are commission based only, and providing services is how they make their living.

Lateness

We always do our best to accommodate our guests; however, in the case of lateness this is not always possible. IF you are running more than 10 minutes late for an appointment and do not call, it is considered a no show for an appointment (please see cancellation policy). We understand that emergencies arise, and will do our best to accommodate you; nevertheless we will not sacrifice the experience of another guest to "squeeze" you in.

Children in the Salon

Hey Red! Inc. Salon aims to provide a sanctuary for our clients, a place to relax for a moment, relieve he stress of our modern lives, and to be indulged. Children are always welcome in the salon when they are receiving services. However, we use chemicals, hot irons and sharp scissors - and don't want anyone to be injured while visiting us, least of all a child. Per insurance regulations and for children's safety, children are not allowed in the cutting area unless they are receiving a service. Children and babies in strollers or car seats are not allowed in the cutting area while a parent, friend, or sibling, etc., is receiving a service. Please make arrangements for children to be tended to if you plan to be in the salon for an extended period of time.
Client Referrals
The greatest compliment that any guest can pay us is a referral to a friend or family member! For every client who lists you as the person who referred* them and receives a service of $25 or more, you will receive a $25 referral certificate**!
*In order to receive the $25 Referral Certificate your name MUST be filled in on the new guest profile in the "Referred by" space.
**Referral Certificate will be mailed to the address we have on file, so make sure we have the correct one (Fill out a profile update now to assure we have the right address). The referral certificate is non-transferrable, only good towards services and can be redeemed one per visit by expiration date listed.
Our Team
Doreen Nionakis
Owner/Stylist
Years of Experience: 38
Special Awards or Accreditation: Redken Certified colorist; Redken Specialist & Master Specialist; Eufora Elite Team member; Eufora Chapter lead; Certified Kadus Colorist; Affinage Color Certified.
Favorite Service: My favorite service IS the complete service from the consultation, the design of the hairstyle with complimentary color that works best for the client. I also think it is best to educate my clients on the correct product use for SUCCESSFUL at home styling and care. I love to create that complete look for clients!
Area of Expertise: I ALWAYS try to polish my skills in all areas. I have done this for many years, BUT there is always something to learn. I think it is a lot of fun to have a guest give me the liberty to create the perfect look for them. If I have to pick one though, I LOVE, LOVE, LOVE color!!
Favorite Product: Full Effect by Eufora. Truly a stylist in a can! An awesomely versatile product for the stylist and the client!
About Me: I have always wanted to be a stylist, however over the years I have come to truly understand that as a stylist we are so much more than "just a hairdresser". The power of the human touch is so powerful, and sometimes for some guests we are the only person that touches them. There is also a delicate balance when dealing with someone's self image, it is what they see when they look in the mirror, how they project themselves to the world, and how other people see them. It is up to us as professionals to fulfill those needs of our guests.
Michele Leckner
Stylist
Years of Experience: 17
Special Awards or Accreditation: Redken Specialist Program
Favorite Service: Updos and Formal Styles are my favorite service because I love to be creative with curls and braids to create something unique and beautiful.
Area of Expertise: Hair styling is my area of expertise. Whether you like it blown out, flat ironed, curled, braided or something in between we can create a beautiful polished look. I love to let my creative juices flow.
Favorite Product: Eufora Pure Polish gloss drops because it adds that polished finish effect at the end of a service.
About Me: I graduated from South Carroll High with my Cosmetology License. I have worked at two salons before finding my home here at Hey Red. I love to do Updos, Highlights, cutting, and styling. I am very good at matching your hair to any pictures that you pick out. If you have a hard time deciding on what you would like to do with your hair I am very open to giving personal recommendations to make you look your best!